How WordPress Bloggers Get Famous
Want More Props From Your WordPress Posts!
Here's a great plugin that we've added to the WPBlogSupport Blog that helps do just that!
WordPress StarBox is a great WordPress Plugin that gives you or any WordPress Guest Authors more of the right exposure on Social Media and in Google.
Here's some of the great things you can expect after you install and configure this great WordPress Plugin that the developers call "is the Author Box for Humans":
HTML 5
Google Microformats (vCard), to display Rich Snippets in Google search results
Easy to customize for each Author
You'll get Google Authorship on your hands For all your authors.
Have it work only on blog posts, only on pages, or both!
Links to social media profiles of your authors: Facebook, Twitter, Klout, Google+, LinkedIN, Instagram, Flickr, Pinterest, Tumblr, Youtube, Vimeo)
Each of your Authors can have a different set of social media profiles added
Links to all the articles
Section that displays the latest posts of a certain author
Themes to choose from
Can set the Name of the Author Box
Can set Job Title
Can set Company (with link to company's site)
Each Author can make the Author Box look like it's his own
You can choose not to display it for certain authors
Removes any other author box from the page, so that there aren't duplicates
Enables you to upload your own image (so that you won't need a Gravatar)
Paragraphs in the Author Bio
Displays the Author Box in the special pages built for each author.
NEW! Add Starbox in the post content or widgets with the shortcode
Engaging your readers is what Starbox is all about. Adding personality and social proof to every post you make in WordPress give you that much more social capital, the kind of investment you can't buy with money. Human readers want to be social and engage with your content and fall in love with it.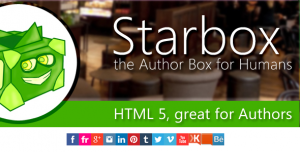 The Author Box created by Starbox looks great and makes it easy for readers to click through to find out more about you the real person. They've also made the Social Profiles of your writers will be obvious and clickable, PLUS Google Authorship and Facebook Authorship are attributed to each Author.
You can find out more about StarBox at: http://starbox.squirrly.co/
The post How WordPress Bloggers Get Famous appeared first on WordPress Support.
Powered by WPeMatico