WordPress Support Affiliate Banners
WordPress Blog Support Affiliate Banners
If you have activated your affiliate status and want to get paid for letting your network know about our Unlimited WordPress Support plans, we have added some additional banners and graphics to use.
Remember the basic affiliate program for WordPress Blog Support includes an easy way to refer people. Just add your affiliate id to the end of any of our pages. Here's an example for the affiliate "037" https://wpblogsuppoprt.com/pricing/?aff=037 and you can earn a recurring income for every sale!
I've included some example banners below. After you've registered as a WordPress Blog Support Affiliate, you'll find more images with your affiliate links "built in". Just copy and paste the code to your sites and start generating recurring revenues.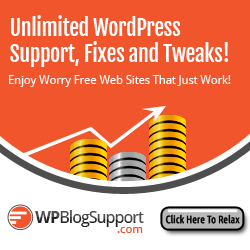 The post WordPress Support Affiliate Banners appeared first on WordPress Support.